Our Integrations team has been busy improving Arria for MicroStrategy with an expanded set of intelligent narratives and an enhanced out-of-the-box experience. Now you can auto-generate even more types of natural-language analysis, in less time than it takes to make a cup of coffee. The latest release gives you access to five more pre-built analyses in Arria Apps. And with Arria Answers, you have an all-new embedded chat platform that lets you query the data beneath your dossier to get precise answers to specific questions.
Get definitive insights, instantly
Arria brings the definitive insights to all your dossier users, regardless of their skill level. By instantly generating contextualized written summaries revealing the insights in your data, Arria streamlines the interaction between the user and the dashboard and removes the ambiguity. Arria's narratives are fact-based and impartial, so the understanding is consistent for all dashboard users. Everyone gets the same interpretation, whether it's the dossier creator, the CEO, or the Sales VP.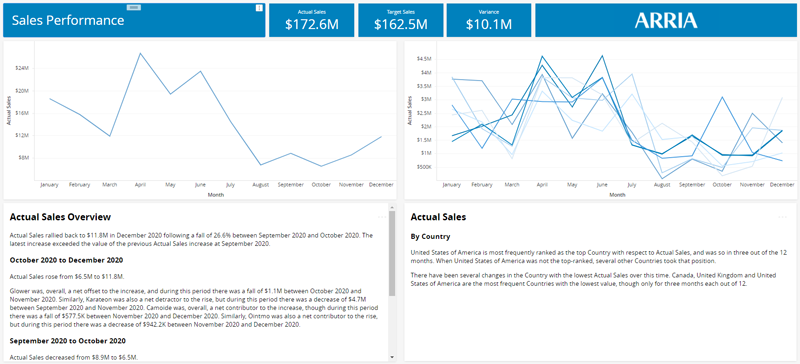 Get expertly written intelligent narratives right alongside your visualizations for speed to information and instant understanding.
As our CTO Neil Burnett puts it, "With Arria narrating your dashboards, you get the data insights spelled out for you in plain English by software that has no personal agenda. So the interpretation of critical information is objective, and everyone has the same take-aways. All your dossier viewers are equally empowered to identify, communicate, and action key insights."
Know more, do more
In addition to the original Descriptive Statistics, Time-based Variance, and Target-based Variance analyses, you can now analyze and narrate your data using the Trend Analysis and Ranking Analysis apps. Arria for MicroStrategy 3.0 also provides apps for describing pie, line, and bar charts. These chart apps actually go much further than simply narrating the respective charts — they're extremely useful for things like drilling down deep into your dataset and generating comprehensive analysis. By using the various Arria Apps, you can surface critical information without time-consuming digging and complex exploration.
For example, by using the pre-built Trend analysis, you can generate narratives that drill down through multiple dimensions and highlight noteworthy shifts, such as an analysis of monthly sales broken down by country, product, and market that reveals in words a previously unseen trend of growth in sales in a particular region. With just a few clicks, you can automatically turn your data into plain-language narratives that everyone can read and interpret consistently.
Save time, ask a question
Arria Answers is a new conversational-AI platform that integrates with your MicroStrategy dossier to give you real-time access to key insights and deeper detail using natural-language queries. You can move between the dashboard, the Arria Apps narratives, and the Arria Answers chat platform whenever a question comes to mind — without interrupting your workflow.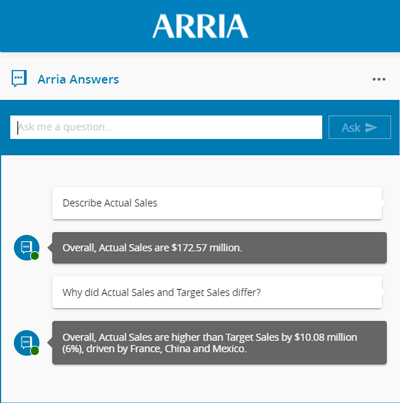 Arria Answers empowers your dashboard users with instant answers to critical questions. Simply type a question and get the answer, without having to analyze the data.
"With ARRIA's integration, MicroStrategy users can quickly and easily generate text narratives in dossiers that are highly customizable and support multiple languages. Their team is easy to work with, highly engaged, and focused on the transformative impact that NLG can have on comprehending your data and taking action."
— Zachary Rea, Director Sales Engineering, MEA at MicroStrategy
Want to try it out?
To learn more about Arria for MicroStrategy 3.0, watch this introductory video.
If you're ready to accelerate your data understanding, communication, and decision-making, try Arria for MicroStrategy 3.0 in your own MicroStrategy dashboard with a 14-day trial.