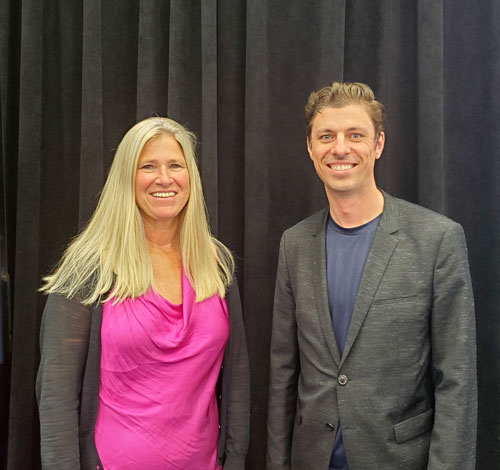 Another productive day for the fluorescent orange shirts of Team Arria, as our Senior Vice President of Customer and Partner Success, Cathy Herbert, led a breakout session on the Future of Natural Language Generation. Cathy took the stage at the spacious Jim Wise Theater in Kupfrian Hall with Tyler Merritt from Arria's partner firm, FaceMe, who would later introduce a very special guest: Sophie, a digital human acting as a presentation layer for Arria's NLG technology. The Arria employees in attendance had already seen Sophie in action, and were looking forward to her big screen debut. We knew she was ready for her close-up.
Building upon yesterday's presentation by Jay DeWalt and Ehud Reiter, Cathy pointed out that most of the discussion at VOICE has been concerned with imagining how new technologies will improve the daily lives of consumers, rather than about potential benefits for businesses. Arria, of course, is focused entirely on the latter, automatically generating narratives for BI dashboards (Power BI, Tableau, Qlik, and Microstrategy), RPA systems, and other data sets in support of FP&A, Operations, CRM, ERP, HR management, and more. But as digital assistants begin to enrich personal lives, expectations about how humans interact with technology will inevitably migrate to the work environment. It's reasonable to expect to be able to talk to Salesforce, or to an ERP system to get information not for its own sake, but in order to derive actionable insights. A manager gets data from a system, insight from the data, and takes action based on the insight.
For example, it's now feasible for the VP of HR to ask a digital assistant what percentage of the organization has completed the compliance training (data), and which departments are bringing down the average (insight), prompting the VP of HR to call the managers (action) so that they will correct the problem (more action). The same data that allows for that conversation might also appear in a business information dashboard, where the narrative might read differently to accommodate a different audience or intent. In fact, the presentation layer for the narrative can take any number of forms beyond Voice and BI dashboards. Narratives may be presented in traditional formats, such as Excel, PDF/PPT/Word, Web page, or in cutting edge formats such as FaceMe, combining Voice with an emotive digital human. Cathy made the point that the data feeding an NLG platform can come from any source and, because multiple individuals interact with the same data in different contexts throughout the workday, must be deliverable to any presentation layer.
Having made the case for NLG adoption by businesses, Cathy moved on to describe the kind of platform that can support her NLG Everywhere thesis. Especially for the Fortune 500 clients that are signing on with Arria, the platform must be:
Open—API-based, easily integrated into disparate data sources and presentation layers
Secure—Supports a range of deployment models (cloud, dedicated cloud, on premise)
Extensible—Narratives, conversations, lexicon, completely controlled by the business
Smart—Thinks like a human, both linguistically and mathematically.
To those of us in orange Arria shirts, these four requirements sounded familiar, because they are the distinguishing characteristics of our NLG platform.
Cathy expressed the importance of achieving NLG Everywhere in terms of rising human expectations: "With the advancements in AI, as human beings… we expect to be able to get information from RPA. We expect our dashboards to be smart. We expect to be able to push a button and generate reports automatically."
She also established that NLG is a distinct layer in the technology stack, and an absolute requirement for Conversational AI. Years of widespread investment in Speech Recognition, NLU, NLP, and Text to Speech have taken those technologies to advanced levels—but to make the most of them in Conversational AI, organizations must add dynamic NLG to the technology stack. Otherwise all that research and advancement fizzles at precisely the most important point: the moment of expression in human language.
When Arria's NLG technology is presented through the presentation layer of FaceMe's digital human, it's all sizzle, no fizzle. Cathy introduced Tyler Merritt, FaceMe's VP of Platform Development, who in turn demonstrated a conversation with Sophie, powered by Arria. Turns out dynamic multi-turn conversations supported by NLG are all the more engaging when the assistant is a digital human. Sophie's facial expressions match the context of the conversation, and the specific data elements. Easy to imagine any number of applications where the two technologies can be beneficially combined on screens to further humanize the experience of business data analysis.
The attentive audience took it all in, and gave the presenters a nice round of applause at the end. Great job Tyler and Sophie, and special kudos to Cathy from the Arria team!