I write this dispatch while sitting with Arria teammates outside of the crowded meeting space where Arria's COO, Jay DeWalt, and Chief Scientist, Ehud Reiter, are unveiling the breakthrough use of Amazon's Alexa as a presentation layer over a Tableau dashboard integrated with Arria's NLG technology. We're happy to listen through the open door, giving up our seats to VOICE Summit attendees, many of whom we met at the Arria booth this morning. It's great to see interest in Natural Language Generation at such high levels. NLG occupies a unique and absolutely essential layer of the technology stack that will make possible dynamic, multi-turn conversations with machines.
Jay and Ehud are joined by Kapila Ponnamperuma, Arria's Head of Technology Integrations, and we know that Kapila is going to demonstrate the technology live in a few minutes. Since we've seen the demo, we know what the audience is in for. BI dashboards plus NLG are already impressive enough. Just wait until the attendees witness Kapila asking questions related to sales performance, and Alexa responding intelligently, remembering context to support follow-on questions. . . .
In the presentation leading up to the demo, Jay and Ehud make the point that data comprehension is more difficult when looking at raw data than at visuals, and more difficult when looking at visuals alone than at visuals combined with narrative written in natural human language. Hence the rapid pace of Arria's BI dashboard integrations.
By combining an Arria-integrated BI dashboard with Alexa, or other conversational platforms, Arria takes it one step further: facilitating dynamic conversational AI for business.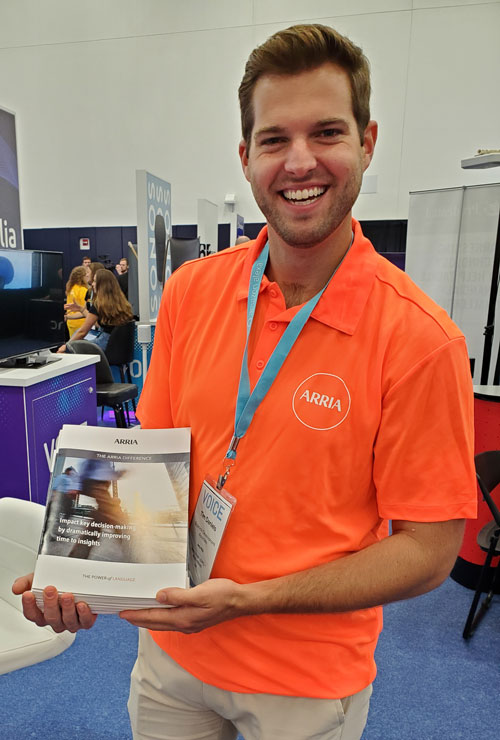 Arria stands out at VOICE Summit in being one of the few exhibitors primarily interested in business applications rather than consumer applications. (We also happen to be wearing fluorescent neon orange golf shirts, selected by SVP of Strategic Partnerships and Business Development, Lyndsee Manna, so we're easy to spot.) Arria is dedicated to using the power of language to helping businesses achieve greater efficiency, discover deeper insights in their data, and ultimately make better, smarter decisions than their competitors.
Update—A Few Minutes Later
It was an extraordinary demo, extraordinarily well-received. Kapila quizzed Alexa about sales performance across multiple measures and dimensions. Conversationally, without a mouse, he achieved the equivalent of drilling down into a BI dashboard, and the audience heard Arria respond immediately with actionable information.
In the discussion that followed, Kapila made the point that if you have an existing BI Dashboard, you can be up and running in hours, with a sophisticated multi-turn conversation application that remembers context to facilitate follow-on questions.
The audience and the Arria presenters were so engaged with one another that an administrator had to call time in order to clear the room for the next session. Jay offered to continue the session in the hallway. Clusters of attendees kept him and Ehud busy fielding questions for another half an hour.
Tomorrow we'll check in after Cathy Herbert delivers her VED Talk in the afternoon. ("TED Talk," but with a V for VOICE.) Cathy will provide guidance on how companies can position themselves to take advantage of the forthcoming avalanche of improvements in Natural Language Generation, particularly when the NLG platform offers built-in computational and linguistic functions and is paired with a conversation platform such as Alexa.
Until then, signing off.